Links
Preston North End V's Kidderminster (24/01/09)

3-2

When Kidderminster turned up in a full minibus to Moor Park and I was panicing because I had eight players I thought we were fucked. Thankfully, four more lads, including eventual man-of-the-match Gary Robinson turned up (after finding his cat!) and we were all set after a pre-match photo of the two sides.

We went 4-4-2 with Dean playing in a free-ish role behind Pete. The first what 25 minutes we were still settling in together and getting used to each others game - and as a result we didnt keep posession all that well. However after a goalbound rocket from Gary Robbo was handle we got a free-kick 25 yards out, and with me screaming "hit the bloody target" to captain Pete he managed to shoot low into the bottom corner to give us a 1-0 lead.

We were then playing well, until a dubious offside decision (by myself!) let Kidderminster back in with 5 minutes to the break. The boys didnt, in my eyes, deserve to be only drawing based on their first half performance. We had another two clear cut chances in the first half, a header from a deep Gary Robinson corner which was about a foot wide from late entrant Woodsy, the other was a header from second-half skipper Atky who feels he should have done better.

Nonetheless, we were doing alright.

Second half, and we were playing some superb football. At 1-1, Matt dribbed through and set up Gary, who's shot was blocked and with the 'keeper stranded Dean managed to scuff his shot and it went high and wide - that was a big chance for us and shortly after this, Kidderminster took the lead. A slip at the important time from Tim let in the Kidderminster striker who laid his partner off and he finished well to be fair. Tim looked like he was struggling with his knee but he persevered which is Tim all over in my eyes. He wears his heart on his sleeve and the psychological boost of getting through 90 minutes must be great for him, after the lay-off he's had. At 2-1 we started to play better football, playing it on the deck with the full-backs of Dave Robbo and Simon in support. Soon, it was 2-2. A great ball into the box by Matt again, who when he came to life reminded me of Ross Wallace with direct running on the left side, played it across the box and cut it back for captain Atky to hammer home. 2-2 game on. And we deserved to be level.

It was then end-to-end stuff. I put myself on for the tiring Woodsy but playing right-wing I'm never comfortable to be honest. The fast tempo of the game must have made it a treat to watch, but to play in it was becoming tiring but we soildered on. 'keeper Gareth made an absolute superb stop from a combination of a long Kidderminster throw and then a snap shot which came pretty much straight through me and at 2-2 that was such a key moment. A huge, and I mean huge punt forward by Gareth, fell to Atky who threaded it to star man Gary Robinson and bang, Dean Newsham scored his first goal for the whites from two yards out.

There was late drama when Kidderminster grazed the top of the bar with the last-kick of the game, a free-kick from 25 yards and it grazed the top of the bar before referee Mike blew for full-time.

I cant speak highly enough for Dave and his Kidderminster lads. They are a complete credit to their club and to stop off here before travelling up to Barrow for a conference game is absolutely outstanding. The game was played in the friendly spirit of the IFA and players were joking with each other all game and it was a great game to be part of - it was what the IFA was set up for and we've built another bridge today which is something we've all got to be proud of.

Individually, I was really pleased with Big Dave and Tim at the back. Bit raw at times, but Dave can read the game bloody well and his height always causes panic for opposition at set-plays. Thought Gary Robinson and Dean Newsham were outstanding today, Dean must have covered miles and Gary's footballing ability is superb. Dave Robbo was solid at left-back and nothing got past him all day, also has a fairly handy long-throw. Simon did well at right-back also, seeming as he hasnt played 11-a-side for ages! Tim was nearly back to his best, he's still very raw and has a long way to go in his recovery but he's getting there and to get 90mins in today was great to see.

Atky was great in the middle and worked his socks off, young Woodsy worked hard and did what was asked of him. Matt worked hard and when he came to life was unplayable. Big Pete up front, did great and held the ball up well and his flick ons were good to see like.

Man of the Match - Gary Robinson

Scorers
Peter Heaps
Alex Atkinson
Dean Newsham

Well done to all involved.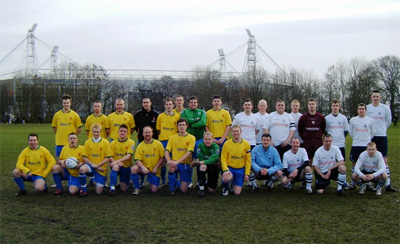 Gr Preston V's Kidderminster Harriers - credit www.harriersfansteam.co.uk