Links
Preston North End V's Chester City (14/02/09)
8-1

We continued were we left of at Reading by playing good football keeping it simple passing early and getting our crosses and shots away early. We also showed respect to Chester City by scoring good goals against them.
Credit to them for never letting their heads dropped and they deserved their consolation goal near the end. Loads of plus points for us but the main one is people coming into the side are fitting in well keeping their positions and hopefully enjoying themselves..

Thanks to everybody for their efforts yesterday, for the respect you showed the opposition and the respect you showed for the shirt you played in.

Well in lads.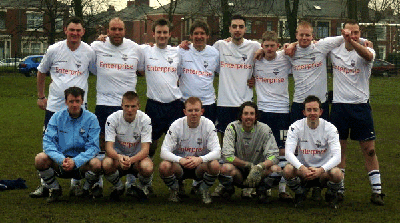 Top: Des, Gaz, Stuart, Steve, Alex H, Wacker, Deano, Jimmy H
Bottom: Jimmy A, Chats, Atky, Chris H, Mike