Links
Yeovil Town V's Preston North End (04/05/08)

1-2

"Just like watching Brazil"

That's what I said to the lads half way through the first half.

We were simply outstanding for that first period it was two touch football of the highest order and if Stu had got any sort of contact on a five man one touch passing move it would have been goal of the season!. The midfield of Wacker, Adie and young Chris chats with the old man sitting deep were different class.
On the ball their pace and movement had Yeovil all over the place and off the ball our midfield unit was so compact and tight that there was only one way for Yeovil to go and that was backwards. How it remained only 2-0 at half time to us god only knows? We got behind them so many times it should have been at least 6-0 to us it was criminal the amount of good chances we let slip both Johnny and Stu could easily have come away from that game with a hat trick a piece.
However it was our passing and movement that stole the show put that together with the honesty off the ball from all the lads then you know you're on to a winner. I really enjoyed this game played on a brilliant surface with the regular showers helped to keep the game going at a fast tempo.

Credit to Yeovil after being totally out played in the second half gave it a real go in the second half as our tired legs began to kick in., but in the end justice was done with us coming out on top by two goals to one. Thanks again for the 12 lads that made this game you were all different class and it was a pleasure to be on the same pitch as you.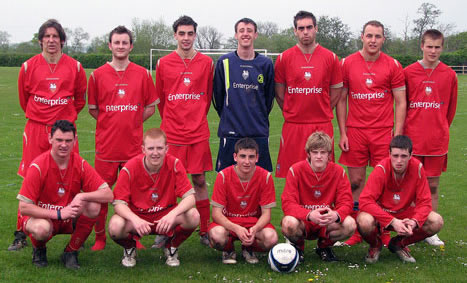 Top: Steve, Stuart, Alex H, Jimmy A, Martin, Jimmy H, Chats
Bottom: Des, Atky, Adie, Wacker, Jonny